MarketWebs Technical Trading System
A technical system based on Market Profile Theories, using Volume, Time, and Price to determine a Technical Roadmap which outlines significant support & resistance that enables  precise entry and exit pivots points.  This system has been through numerous upgrades and enhancement over the last 5 years.
TTG MarketWebs (MW) Indicator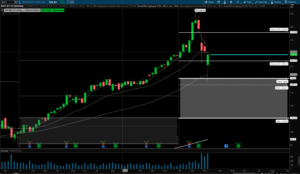 The MarketWebs Indicator is a valuable charting tool that essentially creates a roadmap for decision making. Based on Market Profile theories, using volume and time at price, MW provides a valuable visualization of the significant price areas and levels across equities, futures, and forex. 
A "road map" for detecting when a security is trading in a range or trending as well as where it is likely to go in the future
Great for:
Spotting new breakouts
Confirming strength/weakness across different trade times (long/short term)
Identifying viable targets for entries, exits, and stops
Keeping emotions in check

Those who have been using MW for years, consider it to be simply an invaluable tool to their trading success
System Requirements:  Only available for ThinkorSwim.
We are not strictly growth or value traders/investors, we follow price and trend.