Elite Trader Package
TTG brings the trading desk to you.
Christian relies on his institutional trading experience to identify trends and opportunities in aggressive option activity. He then uses a proprietary flow model coupled with technical analysis to enter and monitor trades.
Includes:
Daily Live Market Commentary
Real time Trade Alerts
Collaborative group chat with free flow of trade ideas
Weekly Macro & Micro newsletter
Trade idea videos / summary
Daily Trading Plan
I understand that my credit card will conveniently be charged $149 per month for as long as I remain an active member.
I also understand that the Tribeca Trade Group cannot guarantee profits, losses are always possible, and that I should always consult a licensed financial advisor or registered broker dealer before placing any live trade with actual capital. Trading options involves risk.
Note: the annual membership is a discount equal to 10% of the monthly rate.
TTG MarketWebs Indicator
The MarketWebs (MW) Indicator is a valuable charting tool that essentially creates a roadmap for decision making. Based on Market Profile theories, using volume and time at price, the MarketWebs provide a valuable visualization of the significant price areas and levels across equities, futures, and forex. Crucial for detecting when a security is trading in a range or trending.
Traders can use MW as a "road map" for when price is trending and where price is likely to go in the future
Great for:

Spotting new breakouts
Confirming strength/weakness across different trade times (long/short term)
Identifying viable targets for entries, exits, and stops
Keeping emotions in check

Those who have been using MW for years, consider it to be simply an invaluable tool to their trading success
See the description for more details.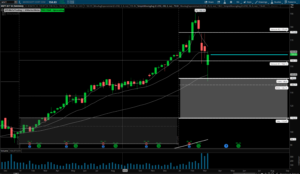 System Requirements: Only available for ThinkorSwim (ToS) Desktop
Market Breadth (MB) Indicator
The Market Breadth Indicator tracks the difference in exchange volume of advancing vs declining stocks real time. This indicator provides a ratio for how powerful trading activity is in a session via advancing vs declining volume. Providing real time Market Breadth is particularly useful for traders to help determine if the trading session is generally trending or choppy. In addition, the indicator separates this ratio by exchange (NYSE, NASD, and ARCA).
System Requirements:
Only available for ThinkorSwim.